Hose Reel Reviews – Guidlines To Consider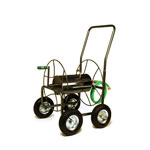 A hose reel is a wheel like device used for storing a hose. Where a hose is used, these devices are used to relieve the burden of rewinding the hose after use hence increasing its life span and reducing accidents that would otherwise be caused by the coiled hose. It would be very tedious to have to coil to coil meters of a hose after a long days work in your lawn or garden. There are different kinds of reel hose depending on the needs of the owner.
Types Of Hose Reels
Spring driven- it is self retracting by use of a spring. It's the most common type of hose reel
Manual – withdraw by manually turning a crank
Powered –it either uses electricity, water or air to draw back the hose.
The best hose reel reviews for your lawn of garden:
Rapid Reel Wall Mount Garden Hose Reel Model #1041-GH
It is known to be the best reel hose in its class.
It can be mounted on any surface.
It's made of a material that is rust proof
It has a 10 year warranty
It has a manual reel break to prevent the hose fro unwinding itself
It is very easy to assemble.
It's expensive.
It lacks a hose guide that helps in guiding the hose to wind neatly
Cobra Co HHEBR Bird Motif copper finish hose holder
It has a more natural look and provides solutions to messy tangled hoses.
The container can hold up to 150 feet of hose in a small place hence efficient on space.
It is made to appear like a decorative container hence can be part of your décor.
It is light enough to move with it around.
Sun cast PTW175 Mocha Wicker 175-Foot Capacity Hose Reel
It has much more capacity than other hose reels of 170 feet.
Though it is durable, a few customers thought its construction was cheap.
It is more expensive than other hose reels.
Suncast NLT205M 225
It has a 225 hose capacity.
It has a hose guide that makes winding easy
It is made of very strong plastic
Has no leak guarantee
From some hose reel reviews, a few customers mentioned that it was made from very cheaply made and the hose chart wobbled from side to side.
Suncast SWA100 100
Has 100 feet hose capacity
Has a removable reel
Made of durable material that withstands time
It is very affordable.
Most of the people commented that it was easy to use and durable.
Liberty Garden Cast Aluminum Wall Mount Hose Reel
It has a powder coated finish
Has 125feet hose capacity
Has a convenient top storage tray
It is very durable but mounting hardware is not included.
Among all the hose reel reviews, the most liked hose reel was the rapid reel model 1041-GH. The only disadvantage was its high cost. There are other alternatives such as suncast SWA 100 but they will not be as durable and functional as the rapid reel wall mount. Most of the customer who took part in the hose reel reviews agreed that his model was efficient of them all. The efficiency of the hose was the most crucial aspect that most fo the customers looked at. this coupled with affordability added to the ideal most were looking for.