Mowing the Right Way with Lawn Mowers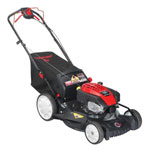 So, how big is your lawn? If you're looking for a new lawn mower, you might want to check out lawn mower reviews to help you find the one that suits you, and the lawn you have. That's right. There are many kinds of lawn mowers available these days, and it can be confusing to buy one if it's your first time. Here are some of the things that you have to consider in buying a lawn mower.
Size of the lawn
The kind of lawn
The way you want to cut
Price
Flat lawns, for example, are best done with push or front wheel drive mowers. The terrain is consistent, so you don't have to worry about the bumps on the road. If you're planning to buy a manual reel lawn mower, make sure that the lawn isn't too big that it might take hours to do the mowing manually. These lawn mower reviews can help you find the one that suits you and the lawn you have.
Great States 415-16 (Standard Full Feature Push Lawn Mower)
This is a great lawn mower for households with smaller yards. Since it's a manually operated mower, it might produce uneven cuts in the process. Thus, you'll have to redo some parts of your lawn if you're not used with manual lawn mowers. Mowing small lawns with this mower might take about 15 to 30 minutes, which depends on your skills in making even grass cuts.
Another advantage of using this lawn mower is that it makes storage easy. It's very light, and you can easily hang it in your shed. Of course, it's also a "green" tool since it doesn't use gas or consume energy while operating. Based on some lawn mower reviews, this is a big advantage.
GreenWorks 25022 Electric Lawn Mower
This electric front-wheel drive mower is great for larger yards. It is equipped with a cutting deck that can create even grass cuts in single runs. The 12 Amp motor of the mower gets the job done without any problems based on lawn mower reviews. Another good feature of this lawn mower is that you can have the discharge through the rear bag, side discharge, and mulching.
If your lawn has an uneven terrain, this lawn mower can also get the mowing done properly. The wheels of the lawn mower are just perfect for uneven terrains and they make it easy for you to maneuver the equipment. Since the lawn mower is electrically powered, it's might be more expensive than manual mowers.
GreenWorks 25052 (Push Reel Lawn Mower)
This lawn mower is great since it can handle uneven terrains. It is also equipped with a rear bag that makes it easy for you to clean the discharge. It can also be used by people of different heights, since it has an adjustable height position.
If you don't like the idea of putting the grass catcher on and off, it's best to take it off while mowing the lawn. The mower might also get jammed of sticks and mulched grass, so you'll have to clear everything out occasionally.
After reading these lawn mower reviews, you should be able to find the perfect lawn mower for you.