Get Rid Of Unwanted Thatch With Lawn Dethatcher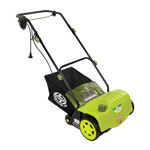 You often take note of lawn having latch that needs to be removed if you want a healthy and established lawn. In fact, green lawn gets a lot of attention of passersby when watered, fertilized and many other varieties of TLC. Normally, people do not find anything bad in thatch until it grows to a taller. To protect your lawn from being unhealthy and detrimental, it is always worthy to get a Lawn Dethatcher for ongoing inevitability. Thatch grows after you have been nurturing lawn for quite a few years. Thatch is a layer of light-brown color that develops between soil and green grass. Thatch is made up of decaying and dead organic matter such as compressed roots, runner or stems.
Scarification or de-thatching of lawn is a mechanical process in which penetrating tines, prongs and metal blades rigorously chafe surface and sub-surface of sports pitch and lawn. Normally, machines of professional standard carry out this process with the use of petrol engines. You can also go for smaller yet less precise electric machine available in the market for domestic use. Lawn Dethatcher takes on a process that removes thatch from garden and makes it look more attractive. This Dethatcher is also popular as power rake, lawn sweeper or thatching machine. Every person who aspires to remove unwanted growth in garden and wants to treat it at regular interval must look for Lawn Dethatcher.
This machine does a great job than a simple lawn-mover dethatching blade, which is quite less and time-consuming. Moreover, Lawn Dethatcher works with four sets of scraping blade that spins and hits the surface of ground at perpendicular angle. A pulley on engine spins blades and works like brush-combing nail to take thatch out of garden. A good quality dethatcher has a level to engage or disengage spinning blades. Leading benefit of throwing away thatch is that it maintains healthy environment and enhances the look of your garden. There is no doubt that weeds or moss sometimes choke the garden off from sunlight and water. Some of the rental shops also rent standard lawn dethatcher at a competitive price of $35-80.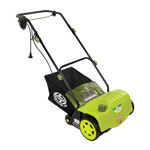 When renting a dethatcher, you can ask for lawn sweeper or power for better results. If you are planning to remove thatch from garden, try to be careful when going over sprinkler, rocks and roots. When dealing with layers of dry and dead leaves, it is very important to take care of your lawn so that it does not get damaged. Use of machines like Lawn Dethatcher can reduce a great amount of task and help you garner premium outcome. This machine may cost you more money than its counterparts may but, it features little control than rakes have. Even if the quantity of thatch in garden passes quite a few inches, you can use Lawn Dethatcher to get rid of.