Reviews Of The Top String Trimmers To Help You Choose the Best One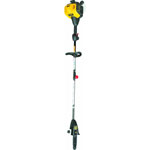 String trimmers are great for cutting weeds and grass in your yard. If you're sick and tired of cramp-inducing grass clippers, purchasing a string trimmer is probably the best choice you have instead of hiring someone to do everything for you.
Here are some of the string trimmer reviews to help you find the one that suits you the best.
Black & Decker ST1000 (Electric Grass Trimmer)
If you have a smaller yard and you only need light trimming, this is the best string trimmer to have. This is one of the cheapest string trimmers these days that can operate up to 11,000 RPM. It makes the trimming job easier because of its light weight and easy maneuverability. For best use, make sure you get a decent cord and install it properly.
On the other hand, this string trimmer doesn't have the sufficient guard to keep your feet and legs away from being sprayed with grass clippings. You'll also need to learn proper techniques in handling the equipment to cut grass effectively. Learning to use this equipment might take some time, but it's great especially for people on a budget as mentioned by a lot of people in their string trimmer reviews.
Earthwise CST00012 (Cordless String Trimmer)
This is another lightweight string trimmer equipped with an extendable shaft. It's perfect for households with more people doing trimming chores. The handle is also adjustable to make the experience more comfortable for users. If the battery is no good, you can have it replaced since it's a detachable part.
Since some people have a hard time with the string trimmer's battery, it's best to trim thicker spots first. When the battery weakens, you can still trim thinner areas without any issues. Of course, make sure that the battery is charged before the trimming job.
GreenWorks G-MAX Cordless String Trimmer
This string trimmer boasts of its fade-free power technology. Unlike other string trimmers, you'll be able to get constant performance until the battery drains. For versatile use, it's also equipped with a rotating head for edging and other trimming jobs. On the other hand, some users of this product mentioned in their string trimmer reviews that it's a bit heavy compared to standard string trimmers.
While some string trimmers need manual adjustments for trimmer size, this equipment makes it easy for you with its line-feed mechanism. This allows you to adjust the cutting size without wasting a lot of time.
Black & Decker NST2118 (Electric String Trimmer)
For landscaping and trimming jobs, this is one of the best string trimmers according to string trimmer reviews. It's great for light and heavy trimming, equipped with two batteries for extended heavy-duty performance. It might take some time before you get the edging right for this equipment, but it does a great job for grass trimming.
If you're concerned about the price, you might get something with lower power and battery. On the other hand, this kind of string trimmer won't do a decent job on heavy grass. Before you buy one, check out your options first by reading string trimmer reviews and focus on the things that you need.