The Best Garden Tillers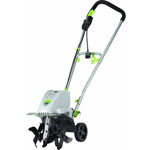 The garden tiller is a great gardening companion especially for people who are sick and tired of using shovels and manual tillers. If you're looking for a decent equipment to help you break down and mix soil before planting seeds, check out garden tiller reviews first. This way, you'll get the information about the perfect equipment for your gardening needs.
Here are some of the things that you'll have to consider in buying garden tillers:
Kind of soil
Kind of terrain
Size of your garden
Your budget
Reading garden tiller reviews will also help you find the best deals offered in the market these days. If you're on a tight budget, you'll be able to find the cheapest, yet heavy-duty equipment for your garden. These are some of the garden tiller reviews to help you find the best gardening equipment for you.
Earthwise TC70001 (Electric Powered)
This is probably the cheapest garden tiller in the market these days that you can also use as a cultivator because of its size. With its compact size, it is great for people with smaller gardens. Lots of people love its sturdy design, and in fact, you can easily adjust the wheels without using tools. The only issue comes when it gets jammed with bigger stones. Since the equipment doesn't have a reverse function, you'll have to stop and remove the stone first before turning it on again.
Troy-Bilt TB154E (Electric Powered)
This is another compact garden tiller that you can use in your small garden. It's perfect for soft and normal types of soil, but it can also work on harder grounds. Once used, it's very important to clean the tines to increase its lifespan. Since the tines can be removed easily, you don't have to worry about using tools in the process. This garden tiller can run more than 10 hours without making any worrying sounds or smell.
Husqvarna CRT900-CA (Gas Powered)
This is a rear-tine garden tiller that's used for larger gardens. Rear-tine tillers are usually used for larger gardens since they are designed to cover almost all kinds of soil and terrain. This kind of tiller has a big wheel that can run through almost all parts of your garden. If something gets stuck in the tines, it has a reverse drive feature to remove jammed objects easily. With its usability, it also comes in a higher price compared to smaller garden tillers.
Garden tiller reviews online also advise people to focus on their needs first. This way, you won't have to buy something expensive with features that you can get from something cheaper. If you have a large flower or vegetable garden, the use of rear garden tillers is advised. You might be able to use smaller tillers, but it might take more time to finish the job.
After checking out garden tiller reviews, you might be able to get links to product sites with discount deals. Have the store's reputation checked, and start looking for the best garden tiller.