How to Choose the Right String Trimmer for You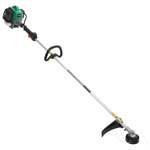 Using plastic lines whirling at up to 400 mph, string trimmers are an excellent asset in keeping your yard and garden looking great.  They can trim right next to trees, steps, rocks, and decorative items, and help you maintain a clean edge next to beds and along walks.
But with many makes and models, and varying widely in price, how can you choose the best string trimmer for your needs? Here are some tips on what to consider when you decide to purchase a string trimmer.
There are two basic types of trimmer: electric (either corded or battery powered) and gas powered.  Your best choice depends on the intended usage of the trimmer: your yard size and terrain and the type of greenery to be trimmed.
Electric
Whether corded or cordless, electric trimmers are lightweight, less expensive, less noisy, and more easily portable than gas trimmers.  Not powerful enough to clear dense brush, an electric string trimmer is more than capable of keeping a smaller, suburban yard looking crisp and tidy. You need a long extension cord and outside outlets to use a corded trimmer.  A battery powered trimmer is an option, keeping you from having to worry about running short of extension cord.  Buying an extra rechargeable battery pack will alleviate the problem of a short run time.
There are three main downsides to electric trimmers: they aren't as powerful, so they can't handle clearing really dense weeds or brush; they have limited extension cord reach or battery life; they tend to be made with less durable materials so as to keep the price low.
Gas
Gas trimmers are better for medium to large sized yards.  There are no worries about running out of cord and the engine is much more powerful.  You can choose a model with either a 2 cycle or 4 cycle engine, depending on the amount of power you need.  They tend to be better built than electric models.
There are some potential cons to keep in mind however.  Gas trimmers tend to be heavier than electric trimmers and they are more expensive. You have to keep a gas/oil mix on hand to operate them; they also pollute, both in exhaust and noise.
Once you know whether you need to choose a gas or electric powered trimmer, there are some other variables to take into consideration.
Shaft Design
Trimmer shafts can be straight or curved.  Straight shaft trimmers are more effective at clearing closely to objects in your yard. Curved shaft trimmers are lighter, but bulkier, and it is hard to get them close enough to objects or in small spaces to get a clean trim.
Head Design
Most of the time, trimmer string comes wound around the head and is slowly ground away with use.  The lowest maintenance head design is the single string head.  This design keeps the string from getting tangled as it sometimes does with the roll variety.
Once you decide on what type of trimmer will be best for you, search for customer generated string trimmer reviews of models that have the features you selected.  Look specifically for reviews that address any concerns you might have and any specific features you want.