How to Select the Best Lawnmower?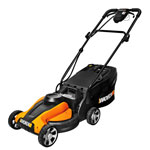 Excessive grass and overgrown weeds may be very difficult to manage especially when you do not have the right tool with you. When purchasing a lawnmower, you have to think about the manner how you want to cut as well as the size of the lawn. There are various types you may freely pick from such as rear wheel drive which is suited for hillier type of yards, front wheel drive or push mower for smaller lawns and for larger lawns, you may consider rear wheel drive.
Things to keep in mind when purchasing a lawnmower:
Consider the most exceptional drive system based on your yard's terrain and area.
Purchase a self-propelled model if your yard area is medium-sized or large. However, if you wish to do some exercise while mowing, a push mower is a good option.
A manual reel mower which is designed as noise-free and emissions-free is recommended for smaller yards.
You may also select a mower which can handle various cutting systems such as collection, ejection and mulching.
The most excellent lawnmower is:
Able to leave your yard looking well-maintained and properly trimmed. It must be able to cut and mow grass and weeds in a balance height. First-rate mowers mulch and distribute pieces without clumps and load bags without clogging.
Come in a reliable and good warranty brand. Pick a lawnmower which is designed with at least three-year warranty or those with lifetime warranty on polymer decks.
Designed with noise-free motors and engines. A few electric mowers are made to be quiet, manual reel mowers generate no noise at all while gas mowers are designed to have loud sound which require operators to wear hearing protection.
Use safety blade brakes and keys. Intact guards guarantee the blades and engine to halt at once in order to get rid of possible injuries. An outstanding lawnmower comprised of override which enable users to shut off the blades while the engine goes on operating.
Manufactured with easy steering and pushing as well as intuitive handling. A stabilized mower with large wheels and easy-to-use controls can help make mowing task more effortless and faster.
As a whole, it is imperative for consumers to learn that a gas lawnmower feels the necessity for periodic maintenance. In other words, we have to tune-up the mower by means of changing the oil, fix the spark plug and air filter. Meanwhile, cordless mowers require a new battery after few years. Proper battery charging may significantly help in prolonging the battery lifespan but it is recommendable to have your battery replaced every three to five years.  Wise consumers may add this to their lifelong cost estimates. For some tips in keeping your mower properly maintained, you can obtain some guides in the internet.
Keep in mind that it will help you save more if you're going to look around for the best price. The price of lawnmower may vary from various stores. If ever you plan to purchase online, see to it that you are dealing with a reputable online store so that you may avail of warranty and the best possible customer service.