Pressure Washer Review – Information You Need To Know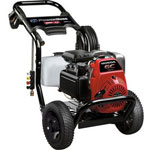 Who is not bugged by all kinds of nasty molds, dust, filth and loose paint on the walls or on the concrete in your home? I think everyone is and it's really irritating. We just cannot sit down till we have rid ourselves of the muck! So what we need to get rid of this filth is a pressure washer. Along the way often the pressure washer will break down or malfunction so we'll be giving you some tips on how to service and repair your pressure washer and keep it in shape.
Since the pressure washer is used for cleaning dirt from your house, it can suffer intense wear and tear and often you'll need to replace its parts. One of the best ideas is to buy the spray kit for replacing your pressure washer instead of replacing individual parts as they break down. The main objective is to maintain the consistency and also the pressure of our washer. Another factor to keep in mind is that the spray kit we are buying should be compatible with our washer. We do not want to end up with a spray kit which does not work with the pressure washer.
In order to maintain the consistency, we also need to decide what will be the best tip for our washer's spray kit. There is a universal 5 color code for tips of the pressure washer and you can control pressure and consistency of spray based on your application. For example if you choose the red tip, it produces a high pressure stream of water and it's mostly used with metallic or concrete surfaces. You have to be careful around delicate things like glass. The yellow tip is also used for hard surfaces like roof, concrete and walls however it sprays at a 15 degree angle unlike the red tip which sprays water at a 0 degree angle. Then there are a variety of other tips like yellow, green, white and black tips which can be used for specific application purposes.
One of the most important components of a pressure washer is the pump which is responsible for building up the pressure of water. However, if the pump is damaged or is not working properly does not mean that you have to change the whole washer. You can either repair or get the pump replaced and it will work just fine! However whether you have to replace or repair the pump depends on what type of pump your pressure washer has. There are two main types of pump; one is the axial pump and other is the triplex pump. If your pump is axial type, then there isn't much chance of fixing it and you'll have to replace it. However, triplex pumps can be repaired easily.
If you are looking to replace the pump, then you have to research the specifications of your machine. What pressure is generated by the pump? What is the diameter of your shaft and so on and so forth? Once you have determined these factors, find the perfect fit for your pressure washer and there you go! Your pressure washer will be up and running just like before and you'll not need to replace the entire machine.